Online Class | 1-on-1 or Make Your Own Group | 1hr Sessions
Subject: Coding, Robotics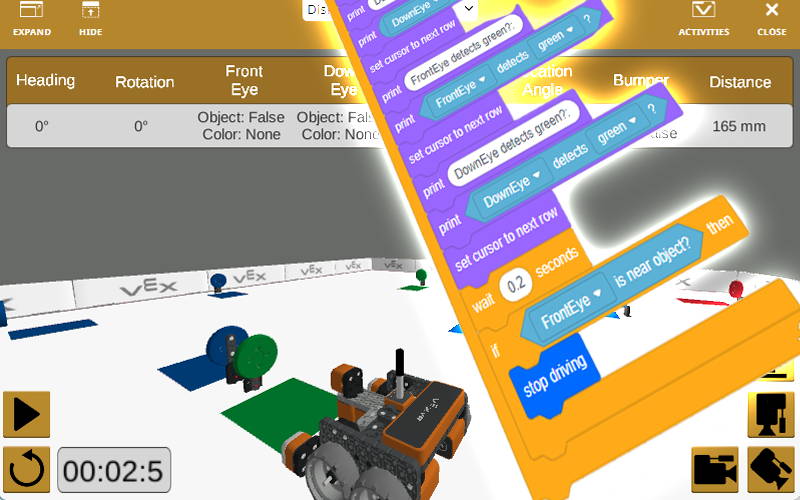 Learn, code, play, repeat!
---
Learn, code, play, repeat! VEXcode VR has everything you need to explore robotics without the need for a physical robot. VEXcode VR runs in a browser, includes a full 3D simulator with multiple environments, and uses a virtual robot and coding editor that is identical to what you would use for a VEX IQ kit. Each student will code their own virtual robot while learning the fundamentals of robotics engineering and computer programming.
SKILL LEVEL: Beginner - Advanced
HARDWARE: None (Virtual VEX IQ only)
In this Virtual Learning experience, our students will
Program functions, variables, and loops
Use gyro inputs and line sensing
Control the robot using obstacle avoidance
Students will learn how to use Zumi's driving commands while learning the basics of Python like variables, loops, conditionals, and user input.
Dive deeper into the VEX IQ sensors and features like color detection, gyro inputs, and line sensing. Then use them to complete a maze challenge.
Advance into autonomous driving concepts like obstacle avoidance and pathfinding and then use them to program the VEX IQ robot to navigate through a series of randomly changing environments.
We'll work with you to identify what areas of VEXcode programming you would like to focus on and create a customized curriculum.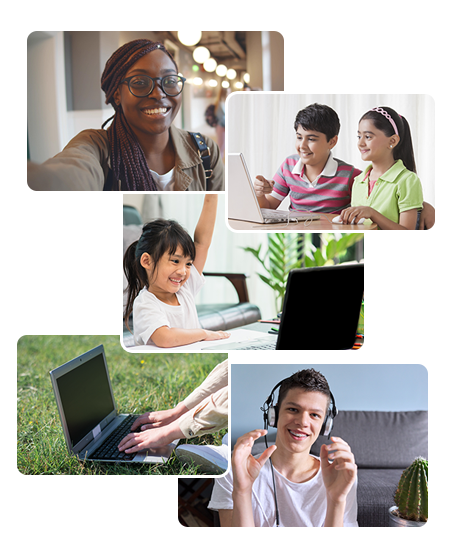 We'll work with you to connect your student to the perfect instructor based on both the student's and instructor's availability.
| | | | | | | |
| --- | --- | --- | --- | --- | --- | --- |
| Sunday | Monday | Tuesday | Wednesday | Thursday | Friday | Saturday |
| | | | | | | |
| | | | | | | |
| | 14 - Twice A Week Schedule | | | | | |
| | | | | | | |
| | | | | | | |
| | | | | | | |
| --- | --- | --- | --- | --- | --- | --- |
| Sun | Mon | Tue | Wed | Thu | Fri | Sat |
| | | | | | | |
| | | | | | | |
| | | | | | | |
| | | | | | | |
| | | | | | | |
We highly recommend following a once-a-week schedule so your child can practice during the week and have off-the-computer time, but we can also accommodate a twice-a-week schedule for accelerated learning.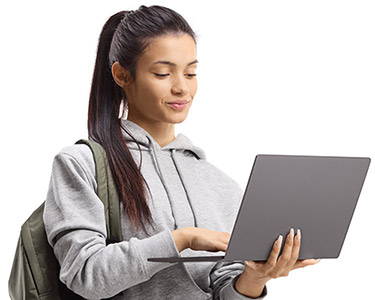 We offer engaging, project-based content. Students have plenty of time to learn, ask questions, and experiment while learning how to code, engineer, and design games!
We offer a robust curriculum with months of engagement. Students will have plenty of time to analyze, design, develop, implement, and evaluate their projects.
After each session, you will receive a feedback report from our instructors on your child's progress. Parents are welcome to reach out to us with any questions about our classes.
We teach transferable skills for fields like web development, game development, data science, machine learning, robotics, and artificial intelligence.
Learn from home, right now.
Anywhere in the world!
Explore our outcome based courses! Your child can learn from our Robolink certified instructors to hone their skills in the latest tech fields. Each course levels up as your child grows. Best of all, you can adjust your class times for the schedule that suits you best!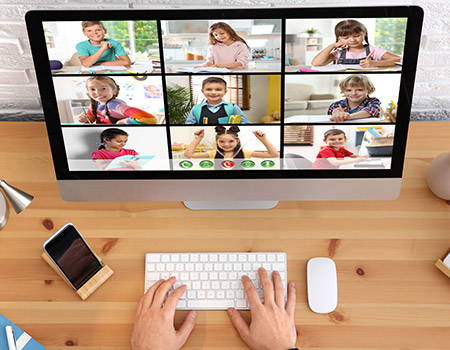 After registering for a class, you'll be given a link to sign up for your parent account. This is a secure account that stores your child's information which is never shared or stored outside of the account.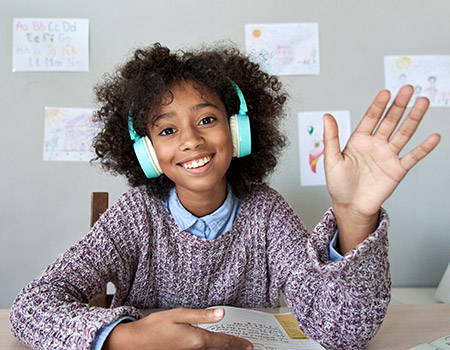 1-on-1 Private Instruction
Just YOU and your private instructor. Our 1-on-1 private tutoring gives your child a personalized experience, allowing them to excell at their own pace.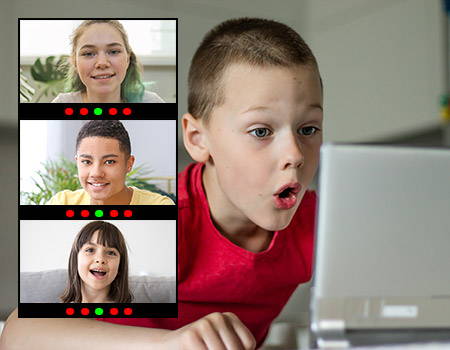 Create your own group! Learning's best with friends! You can make a private group so your child can collaborate and socialize with their own private team!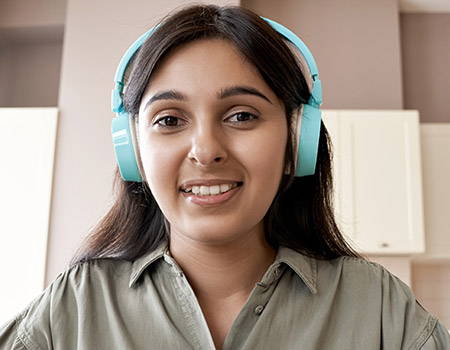 Who teaches our students?
The best instructors! We choose the best instructors to inspire your student!
Robolink certified instructors are engineering and computer science students from major universities or tech education professionals.
Each instructor has to pass a rigorous training program to ensure your student has the best experience! Once registered, we make sure to place your child with the instructor for their skill level and interests.
Virtual Learning Requirements
These are the minimum requirements to attend any of of our virtual learning options.
Win, Mac, Chromebook*
Webcam and mic
Stable internet connection
A quiet place to work
Be ready to have lots of fun!
If under the age of 13, the student must have a parent or guardian at home.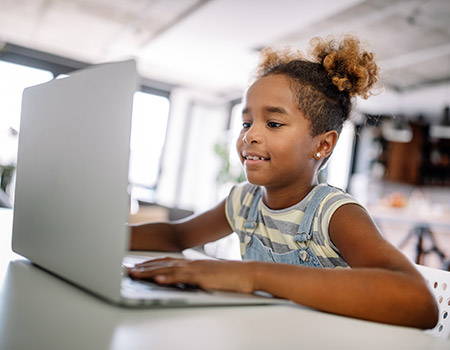 My daughter really enjoys her weekly online VEX IQ class. I was really worried she wouldn't get into robotics, but now she wants to become an engineer one day!
~ Sandra
My kids really enjoy working in their own private group. This way they're all at the same coding level and they're not afraid to ask the instructor for help!
~ John
I was a little worried as a homeschool dad since I don't know any code, but my sons instructor has been really helpful. I love getting progress reports after each lesson!
~ Omar
My daughter tried 3 different camps before settling on Python tutoring. I'm really glad I got the opportunity to test a few subjects before picking one my daughter would love!
~ Tamera
Frequently Asked Questions
What's the registration process?
Once you register for our Virtual Learning services, you'll receive a link to set up your parent account. In this portal you'll be able to securely add your child's name, age, skill level, and email for the virtual learning Zoom or Google Meet invitation. Every registrant must have created an account with our parent portal and agree to our Terms & Conditions and Code of Conduct before the student is allowed to enter our Virtual Learning services.
Which Virtual Learning option is best for my child?
Each student has different needs when it comes to virtual learning. We have private tutoring options for students who want to deep-dive into a subject, camps for the student who wants to test the waters of a new subject or hone their skills, and even 1hr webinars and trials. If you are unsure of which option is best for your family, you can fill out the contact form below or email info@robolink.com.
Will my child have the same instructor every lesson?
To keep your child's learning schedule consistent, we will do everything we can to provide the same instructor for every lesson, but there may be times when the instructor in unavailable. In this case, we will work with you to schedule an instructor best suited for your child. We also take detailed notes of every lesson so our instructors can provide your child with the best experience.
Can two children in the same household take a lesson together as a single student?
Every child is a separate registrant and cannot share an account. We do have other offerings to provide our students with custom groups classes, camps, and webinars for multiple participants.
Do all students have to start at the same level?
Our tutoring allows students to start at their current skill level. Instructors will assess the students skills and allow the student to start their first class at a higher level, or spend a few lessons with the student on an accelerated path. With camps, the curriculum is on a fixed path, but students are allowed to customize their projects to further hone their skills and present their projects to the group for further critique.
How do I renew my payment?
Our subscription services will automatically renew. Private tutoring with purchased lesson hours, can be repurchased from our online store and added to your account, or you can choose to auto-renew after the last lesson hour is used. Camps are one-time purchased but you may purchase as many camps as you like.
How do I reschedule a lesson?
If at any time you need to reschedule a tutoring lesson, please contact info@robolink.com or call 858-876-5123 and let us know the day and time you need to reschedule and we will work to either skip until the next lesson or reschedule that lesson on a later date. Please note that we need to hear from you at least 24 hours in advance to reschedule. For camps and webinars, unfortunately we cannot reschedule since these have set times and dates, but we can work with you to find a suitable replacement.
What happens if I forget to reschedule a lesson?
We do not offer refunds or credits if a lesson/camp/webinar is missed since the instructor was in their virtual classroom and that time slot could not be refilled. If there was a family emergency or other issue, contact info@robolink.com or call 858-876-5123 and we will do our best to work with you to reschedule the lesson..
Are these lessons recorded?
For quality, training, and safety reasons, every lesson is recorded and stored on a secure server. If you need a copy of the recording, you can request it at info@robolink.com and we will gladly provide you a copy. If the lesson video requested is a group lesson, all parents/guardians must agree to the recording being shared and we will provide a copy to every parent/guardian in the group.
What is the Code of Conduct?
In our Virtual Learning offerings, we provide a fun, safe, and educational environment. To do this, we don't allow bullying, harassment, threatening behavior, rude gestures, visible written profanity, visible weapons, and drug and alcohol use. If a student is accused of any behavior that is against our rules of conduct, we will investigate thoroughly. If found that a student has broken the Code of Conduct, they will be expelled from our services without a refund. If you have any questions or issues, please contact info@robolink.com.
Do I need to install anything?
We do our best to use software that is web-based and doesn't require any installation but if you do need to install a specific software, we will provide that information before your first lesson.
What equipment do I need?
A computer or laptop, webcam, and optional headphones/mic. to participate in the class. If your specific class or camp required hardware, it will be listed on that product page.
How do I cancel these services?
If your child is attending a subscription-based service, please contact us at info@robolink.com or call 858-876-5123 cancel the service. If your child is attending a camp, there are no refunds after camp has started but we can work with you if an issue arose where your child couldn't attend the camp the full week.
Have questions, requests or concerns? Please let us know below or email info@robolink.com